Intruders and Old Pigeons
A male peregrine flew through the gorge today, not one of our pair. Our tiercel was sat in the oak tree and chased after this intruder. He was presumably successful as he returned a few minutes later. The falcon remained unconcerned incubating at the eyrie on this occasion.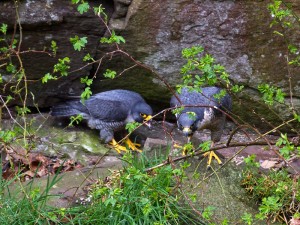 The food stored yesterday was put to use by our pair today, both eating pigeons taken from a larder. The falcon returned to the eyrie after eating most of the pigeon she caught yesterday. The tiercel must have been able to see her and went to finish off the carcass. The falcon called loudly from the nest, maybe she wasn't impressed that he was eating her food, instead of hunting for himself. Often she hides her catches from any possible meat thieves.
I'm often asked why our falcon mainly catches feral pigeons, there are a number of reasons. Firstly due to her bulk, she is less agile than the tiercel so is less adept at catching small birds. The effort put into hunting also means the female likes to get a substantial meal out of it. Her preference for carrying birds back to a plucking post tends to rule out birds larger than a feral pigeon.
Pigeons are the most numerous bird of their size in the area. They are often in groups and are obvious feeding in fields or sitting on buildings. Peregrines rely on surprise to kill their quarry, so they like to be able to go up high and stoop down from distance, ambushing their prey. A group of pigeons feeding in a field provide the perfect opportunity for this! Due to their domestic ancestry they are also often less alert than many truly wild species.
There are other birds of pigeon size in the area, such as corvids (birds in the crow family). They however have foul tasting skin so are usually avoided (sometimes they may feed them to their chicks however!). Crows particularly have very strong pair bonds and if their mate is caught they will aggressively attack a peregrine. The falcons therefore decide they are not worth bothering with.
Medium sized wading birds are a favoured prey item of peregrines, mostly in the winter when they gather in flocks. During the summer though they are much less obvious and due to declines there aren't many in this area. Snipe have been caught by our pair, but as anyone who has seen a snipe will know, they are extremely well camouflaged so are not often found by predators!
Help protect Scotland's wildlife
Our work to save Scotland's wildlife is made possible thanks to the generosity of our members and supporters.
Join today from just £3 a month to help protect the species you love.
---
Preface
A male peregrine flew through the gorge today, not one of our pair. Our tiercel was sat in the oak tree and chased after this intruder. He was presumably successful …