When I left last night the falcon was showing signs that the second egg was hatching. As with yesterday morning she was sat quite high up, looking underneath her on occasion, calling softly and generally looking quite uncomfortable. All which made me very hopeful that I would find two bundles of fluff at the eyrie this morning. I was not disappointed, the second chick of 2012 was there alongside it's sibling on the nest site.
The chicks get fed small portions regularly over the first few days of them hatching, 3-5 times a day is usual. Unlike with some other birds of prey and owls, the peregrine falcon is very meticulous in feeding both chicks very evenly even if food is not plentiful. Food shortage is something we will hopefully not encounter at this site, due to the abundance of prey in the local area, but a run a bad weather would cause problems. Today the falcon fed the chicks both food from the larder and food the tiercel gifted to her.
We were surprised to find the tiercel sat relaxing on the cliff for much of the early afternoon, despite the falcon calling loudly to him. He is a very experienced bird and seems to be very confident about his hunting abilities. Happy to wait around after each feed instead of going out instantly to search for more prey. He came good this afternoon bringing in a couple of starling sized birds for the falcon to feed the chicks.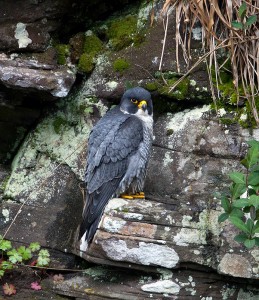 Despite the falcons food begging, our tiercel will often not retrieve stored food for her. He leaves the falcon to go collect the remains herself. Whether he does this purposely I am not sure, as this is the only occasion that he gets to go and see the chicks at the eyrie and he usually takes his chance!
There were a couple of times today that he flew down to the nest when the falcon was present. He then tried to look underneath her at the chicks. The first time she shouted at him to leave instantly not lifting herself off the chicks. The second time she seemed to tolerate it for 30 seconds or so, letting him have a look. Before again shouting at him loudly both to leave and possibly to get food and bring it to her! The second request was not fulfilled as 5 minutes later the falcon was off the nest collecting the remains of a carcass to feed herself and the eyasses.
The chicks will grow quickly over the next few days and may be double the size by the weekend! I look forward to watching them grow and observing more fascinating behaviour by the adults!
Tom Wells – Peregrine Protection Officer
Help protect Scotland's wildlife
Our work to save Scotland's wildlife is made possible thanks to the generosity of our members and supporters.
Join today from just £3 a month to help protect the species you love.
---
Preface
When I left last night the falcon was showing signs that the second egg was hatching. As with yesterday morning she was sat quite high up, looking underneath her on …