Peregrines Surving the Cold
Our birds continue to thrive despite the cold temperatures. It's easy to forget that it is not unusual to have temperatures this low in april, it was the warm weather last week that was out of the ordinary! After breeding here for many years, both our birds are well experienced to what the world throws at them.
I have noticed that particularly in the morning both parents are sitting very tightly on the eggs. The falcon has continued pulling material towards her, to aid in incubation.
They performed well for the public today. When we had our largest group of children of the day, the falcon brought a pigeon in to her plucking post. What started out as an intact feral pigeon, was soon plucked and torn apart in front of their eyes. By the end there was very little left. The tiercel was calling incessantly from the eyrie wanting his share, but he couldn't leave the nest until she came to relieve him. You could tell that he was growing in frustration, as the calls got louder!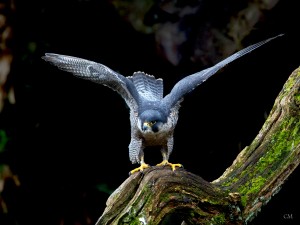 Eventually the falcon took the pigeon down to a ledge on the cliff and left it there. She continued on to the nest and he got to go and have his share. There wasn't too much left of the carcus at this point, she had certainly had her fill first!
Tom Wells – Peregrine Protection Officer
Help protect Scotland's wildlife
Our work to save Scotland's wildlife is made possible thanks to the generosity of our members and supporters.
Join today from just £3 a month to help protect the species you love.
---
Preface
Our birds continue to thrive despite the cold temperatures. It's easy to forget that it is not unusual to have temperatures this low in april, it was the warm weather …