January sightings at Montrose Basin
Many people find it difficult to get excited about gulls. Perhaps one of the reasons for this apathy towards these members of the Laridae family is that they are such a common sight, particularly on the coast, with many Larus species being associated with scavenging.  However, these opportunistic birds seem to be adapting to changes we have made to its environment, making food readily available in the form of our waste. This behaviour has caused them to become unpopular among residents as these intelligent birds thrive in human habitats.  It's true that around the Montrose Basin gulls are a regular sight, but during the beginning of January, a more unusual sighting was recorded in the form of a Glaucous gull. This gull species is pale and when it reaches adult plumage has white tips on its wings. In appearance it is similar to the Iceland gull, though is larger with more of a square shaped head and larger bill. The gull that was seen on the basin was a young glaucous gull and likely to be in its first winter with biscuit coloured plumage.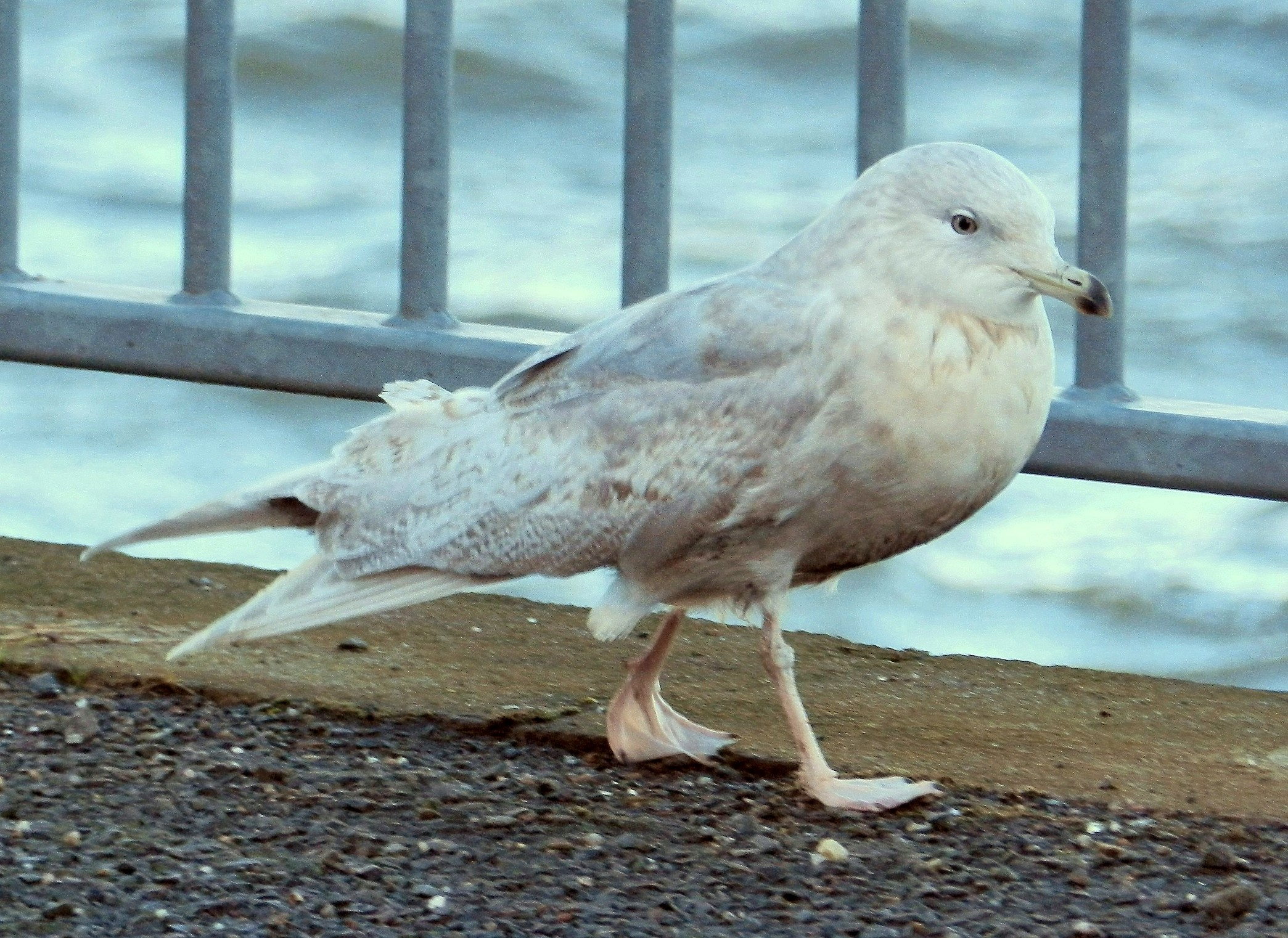 Other sightings that have delighted observers at the basin in January include a Great Northern Diver and a Black Necked Grebe on the 8th!  
Great Northern Divers, like all members of the diver (Gaviidae) family breed in freshwater but winter off coasts and estuaries. Unable to stand or walk on land, divers rely heavily on water where they are expert divers and swimmers.  The great northern diver is the heaviest of the family with the largest bill and has a remarkable breeding plumage with dark and pale bands around the neck. In winter in the UK, traces of this pattern may still be visible though, like many birds, the dramatic breeding colours change.  Great Northern Divers arrive from their breeding grounds in Iceland and Greenland from October to December and return from April to May.
Black Necked Grebes are similar in appearance to Slavonian Grebes though have an upturned bill and peaked crown, with winter plumage showing less definition where the dark crown extends into white. These grebes winter at sea and on estuaries, but return to their breeding sites in April and May.
Montrose Basin is a fanstastic place to view winter wildlife. Why not visit the centre open Friday – Sunday, 10.30am – 4pm
Anna
Montrose Basin Ranger
Help protect Scotland's wildlife
Our work to save Scotland's wildlife is made possible thanks to the generosity of our members and supporters.
Join today from just £3 a month to help protect the species you love.
---
Preface
  Many people find it difficult to get excited about gulls. Perhaps one of the reasons for this apathy towards these members of the Laridae family is that they are …