Summer migrants depart for winter
As we find ourselves creeping further into September with the Autumnal equinox fast approaching, we have reached that point in the year when a lot of our summer migrant breeding birds will be preparing to embark on their migration to their wintering habitats.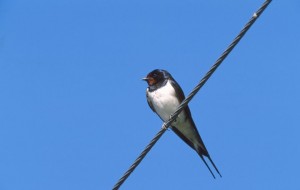 Here at Montrose Basin, we have watched over the past week as the families of sand martins Riparia riparia have left the artificial sand bank outside the visitor centre, and the swallows Hirundo rustica have left their mud cup nests built on the eaves of the building.  Along with house martins; sand martins and swallows belong to the Hirundinidae family – a family of small birds (sand martins being the smallest) with tapered wings and forked tails (swallows having unmistakable streamers).  Both birds are agile fliers with swallows in particular spending much of their time on the wing. They also feed aerially on small insects often favouring feeding over water bodies where flying insects are more prevalent.
 These birds usually leave their British breeding grounds in September, having built up their fat reserves before making their way to their African wintering grounds.
 
Another special summer breeding bird that we are lucky enough to have regular sightings of at Montrose Basin is the Osprey Pandion haliaetus.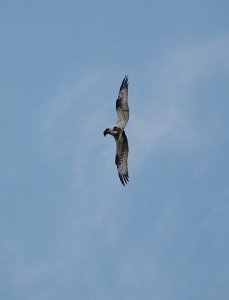 These raptors were once thought to be extinct in the UK, but thanks to conservation efforts, there are now around 250 breeding pairs – the majority of which are in Scotland.
These impressive raptors are specialised fish hunters and are often seen around the basin with the most recent sighting being this morning (6th September).  Adult ospreys tend to leave for their migration to West Africa towards the end of August, with the females usually leaving first.  Any juvenile ospreys will then follow on for the 3,000 mile journey south in September, having fledged in late July. 
 
Anna – Acting Montrose Basin Ranger
Help protect Scotland's wildlife
Our work to save Scotland's wildlife is made possible thanks to the generosity of our members and supporters.
Join today from just £3 a month to help protect the species you love.
---
Preface
As we find ourselves creeping further into September with the Autumnal equinox fast approaching, we have reached that point in the year when a lot of our summer migrant breeding …