Watch badgers at the Falls of Clyde
The human visitors to the reserve might be grateful for good weather but some of our resident wildlife might not be so pleased!  Badgers can eat up to 200 earthworms in one night and the recent rain we've had would have meant that worms will be coming closer to the surface making them easier to dig out and gobble up.  As the earth dries up, the worms will retreat deeper into the ground and will be more difficult to find!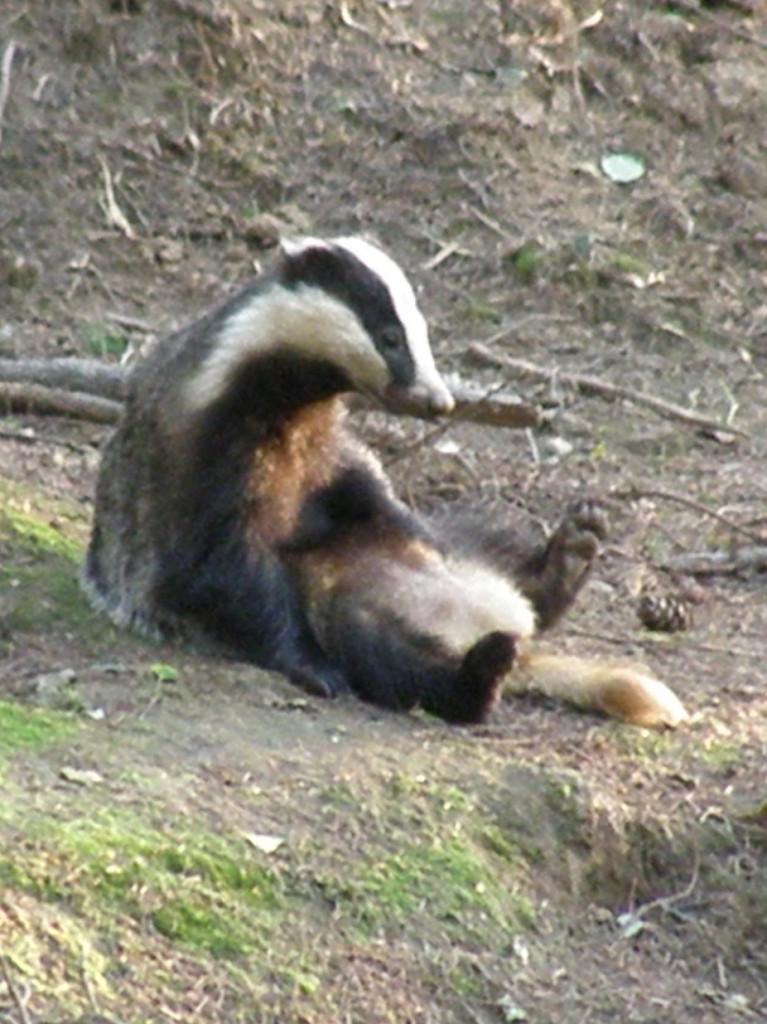 The Falls of Clyde is a hot-spot for badgers having six setts (badger burrows) on the reserve.  However badgers are nocturnal creatures which means they can be difficult to see on a regular walk during the day.  However here at the Falls of Clyde we are running badger watches every week until the end of August.
Recent highlights have included a young cub misbehaving (very noisily) and being disciplined by an adult and a slightly older cub which came so close it was actually underneath our viewing platform.  Admittedly, not very easy to see under there, but a unique wildlife experience nonetheless!
On the walk to and from the sett we also stop to look at the other night-time wildlife of the reserve.  As it gets darker bats will start to leave their day-time roosts and can be seen flitting through the trees above your head hunting for midges, moths and other insects.  The larger Daubenton's bat can also be seen hunting low over the river.  On a lucky night we can also see foxes, roe deer or maybe even an otter.
If you fancy coming along to one of our badger watches then join us on one of the following dates.  Also available are family badger watches which are suitable for younger children aged under 10 and include a fun badger trail.
Prices are £8 for an adult and £4 for a child and half price if you are lucky enough to be an SWT member.
Badger Evening
29th July and 2nd and 20th August
Family Badger Evening (For children under 10)
23rd July and 6th and 13th August
Lizy – Falls of Clyde Seasonal Ranger
Help protect Scotland's wildlife
Our work to save Scotland's wildlife is made possible thanks to the generosity of our members and supporters.
Join today from just £3 a month to help protect the species you love.
---
Preface
The human visitors to the reserve might be grateful for good weather but some of our resident wildlife might not be so pleased!  Badgers can eat up to 200 earthworms …