Sightings summary – July 2011
July is traditionally a quiet month on the Basin with not much happening.  The past month, however, has been anything but quiet; with waders starting to return after the breeding season, the excitement caused by the busy tern colony in the middle of the Basin, a couple of uncommon sightings and the odd rarity thrown in to keep the die-hard birders happy!
Continuing on from last month, the big news this month was tall and white, as the spoonbill which had been sighted towards the end of June was joined by not one but two juvenile birds on 2nd July and they have hung around throughout the month with all 3 being recorded from the Visitor Centre on an almost daily basis.
The spoonbills were joined by a very similar looking bird, a little egret which turned up on 30th July and although not a common sight, is becoming a regular summer visitor at Montrose.
Wildfowl and waders
Peak counts of duck, goose and swan species during July included 62 red-breasted mergansers, 4 pintail and 211 mute swans on 3rd.  The most goosanders seen topped 80 on 9th and a whooper swan was also seen.
The Wetland Bird Survey on 17th recorded peak monthly counts for shelduck (202), wigeon (25), teal (2), mallard (82), pochard (6) and eider (1092).
On 31st nine pink-footed geese and 34 goldeneye were noted.
As waders begin to return from their breeding grounds the numbers recorded during WeBS saw 959 curlew, 110 redshank, 26 greenshank, 11 snipe, 1 green sandpiper, 481 oystercatcher, 120 lapwing and 1 knot.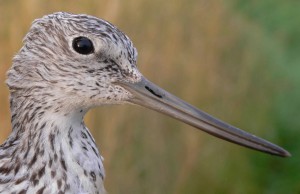 Other notable wader sightings this month included 20 common sandpiper, 3 dunlin, 2 ruff (all 10th), 30 knot (16th) and 58 black-tailed godwit (17th).
Birds of prey
Ospreys have been a regular sight throughout the month and three were recorded fishing on 3rd and four on 17th. Buzzards have also been a regular sighting and a kestrel was recorded outside the Visitor Centre on 24th.
Passerines
As well as the usual flurry of regular species which can be seen on the reserve and continuing to visit the bird feeders, species noted from the Visitor Centre during July included a linnet (8th), sedge warbler (9th), 3 reed buntings (10th), swift (15th), willow warbler (17th) and a juvenile siskin (30th).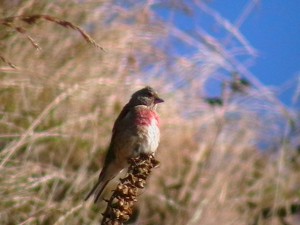 Others
A great crested grebe has been present throughout the month, and a single common guillemot was recorded on 2nd and 30th.  On 31st however the number of guillemots rose to six and they were joined by 11 razorbills.
Over 2000 gulls of various species were present on the Basin on 3rd, as were 25 cormorants and 45 grey herons.
Water rails are very illusive birds at the best of times and are much more commonly heard than seen, however a juvenile water rail was showing well in the pool in front of the Visitor Centre on 16th.
You may have already read the earlier post dated 17th July about our adventure to ring the common tern chicks, but in case you have not we recorded about 150 chicks on the man-made raft in the middle of the Basin, with potentially more yet to hatch.
Peak counts of tern species recorded on the reserve saw 108 sandwich terns and 220 common terns and 6 Arctic terns on 17th, although "a lot" of sandwich terns were recorded on Rossie Spit on 14th so the peak count of 108 may have been exceeded!
Following the extremely harsh winter there have been no recorded sightings of kingfisher on the reserve since last October, so we were delighted when one was seen at Old Montrose Pier on 24th.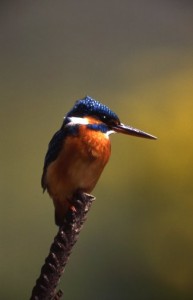 Mammals and butterflies
A bank vole was seen around the base of the bird feeders on 2nd and the peak count of common seals recorded this month was 19 on 9th.  A single grey seal joined the basking common seals on 17th.
Although not on the reserve, two minke whales were recorded in Montrose Bay on 29th.
With the arrival of a mother cow and calf, another mammal recorded on the reserve this month is Shetland cow. The pair will graze the Salt Pans in order to try and improve the site for wintering waders and wildfowl by muddying up pool edges and keeping vegetation down.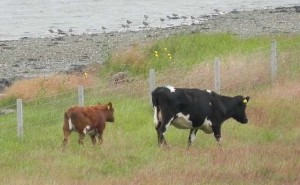 Two green-veined whites and an orange tip were noted in the Visitor Centre grounds on 10th.
Help protect Scotland's wildlife
Our work to save Scotland's wildlife is made possible thanks to the generosity of our members and supporters.
Join today from just £3 a month to help protect the species you love.
---
Preface
July is traditionally a quiet month on the Basin with not much happening.  The past month, however, has been anything but quiet; with waders starting to return after the breeding …