What's eating our sand martins?
Over the past few weeks new life has been appearing all across the reserve at Montrose Basin with the first shelducklings and eider ducklings being recorded on 1st and 2nd June.
The feeders around the Visitor Centre have been engulfed in a plethora of young birds; including blue tits, coal tits, great tits, greenfinches, starlings, house sparrows and goldfinches and adult swallows are busy collecting insects to feed their hungry chicks.
Visitors to the Centre are routinely being entertained by the antics of juvenile herons trying to learn how to catch prey on their own, most of the time without success.
One of the most obvious species at this time of year is the sand martins which nest in the man-made wall directly in front of the viewing gallery of the Visitor Centre. 
The wall is home to a colony of around 80 pairs this year and by the number of juvenile birds emerging, they appear to have had a good season.  At the weekend staff and volunteers watching on with amusement as one hole held four tiny brown faces all poking out, hoping to be the first to get fed by their parents.
It's not all fun and good times for the sand martins however. As they take to the wing for the first time to explore the big wide world, they are the target for many species which would like to have them for lunch.
You might expect some of the obvious predators such as sparrowhawks or stoats and no doubt some of them will fall victim to these.  However, as well as witnessing a grey heron taking an adult sand martin, which I mentioned in my post at the end of May, the most prolific predator we have seen so far this year may be less evident.
On two occasions in the past week, staff and volunteers in the Centre have observed as young sand martins have been taken and eaten by….a female mallard!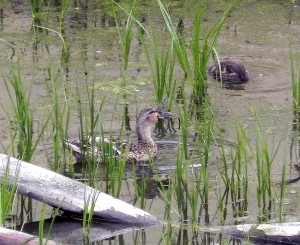 We can only assume that smaller birds do not see the mallards posing a threat, so allow them to approach without flying off and indeed, staff at our Loch of the Lowes Reserve near Dunkeld have seen mallards also eating smaller birds, in those occasions the victimes were siskins and blue tits.
So next time your feeding bread to the ducks in your local pond don't be fooled by their apparent innocent exterior!
Adam – Montrose Basin Volunteer
Help protect Scotland's wildlife
Our work to save Scotland's wildlife is made possible thanks to the generosity of our members and supporters.
Join today from just £3 a month to help protect the species you love.
---
Preface
Over the past few weeks new life has been appearing all across the reserve at Montrose Basin with the first shelducklings and eider ducklings being recorded on 1st and 2nd June. …