The falcon stoops down on a heron passing through the gorge
A very exciting event happened at the peregrine watch on Sunday. A heron was flying through the gorge past the eyrie when suddenly the falcon flew off the oak tree and stooped down at high speed towards the heron. The falcon then chased the heron up the gorge with the heron squawking away. She was definitely protecting her territory and well and truly chased the heron away. A heron would be classed as a predator as they could eat the eyasses when they were younger.
The eyasses are still very active, running along the cliff ledge and frequently flapping their wings. They have lost most of their fluffy white down. One eyasse still has a bit on his head and he looks like a Mohican. I think they may fledge in less than five days time.
Yesterday evening I got some close views of the falcon sitting in the pine tree 20 metres from the peregrine watch. I watched her preening herself for about 20 minutes. Hopefully she will sit there again as it was great to see her up so close.
Keep your eyes on the peregrine web camera as the eyasses could fledge the eyrie very soon now.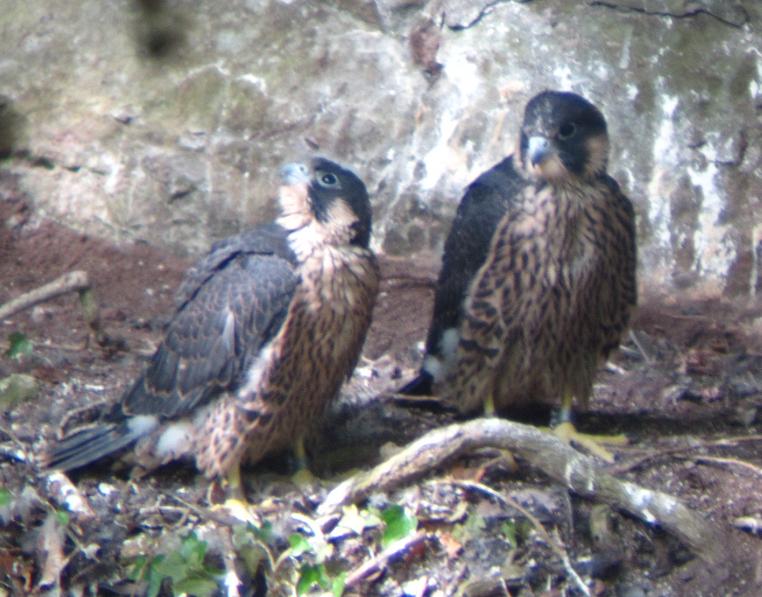 Tom Hall – Species Protection Officer
Help protect Scotland's wildlife
Our work to save Scotland's wildlife is made possible thanks to the generosity of our members and supporters.
Join today from just £3 a month to help protect the species you love.
---
Preface
A very exciting event happened at the peregrine watch on Sunday. A heron was flying through the gorge past the eyrie when suddenly the falcon flew off the oak tree …