The eyasses may soon fledge from the eyrie
The two eyasses have most of their adult plumage through now. They are becoming increasingly active on the ledge and strengthening their wings with frequent wing flaps. One of the eyasses seems to be more adventurous than the other and I think it will be the first to fledge. The eyasses are now five weeks old so we think they will fledge in less than a week. The tiercel tend to fledge quicker than the falcon as they are smaller birds.
In the last few days we have seen some interesting behaviour at the peregrine watch. The falcon has brought in a starling and one of the eyasses has taken the prey item from the falcon. The eyasse has then taken the starling and started to mantle (the bird puts its wings out to protect the prey it is eating) and feed itself. To start with the falcon tried to get the starling back to feed both the eyasses but she soon realised when to take a step back and let the eyasses start feeding themselves. At one point the two eyasses were playing a tug of war with the starling remains and trying to pinch it off the other. It was quite funny to watch as long as you are not to squeamish.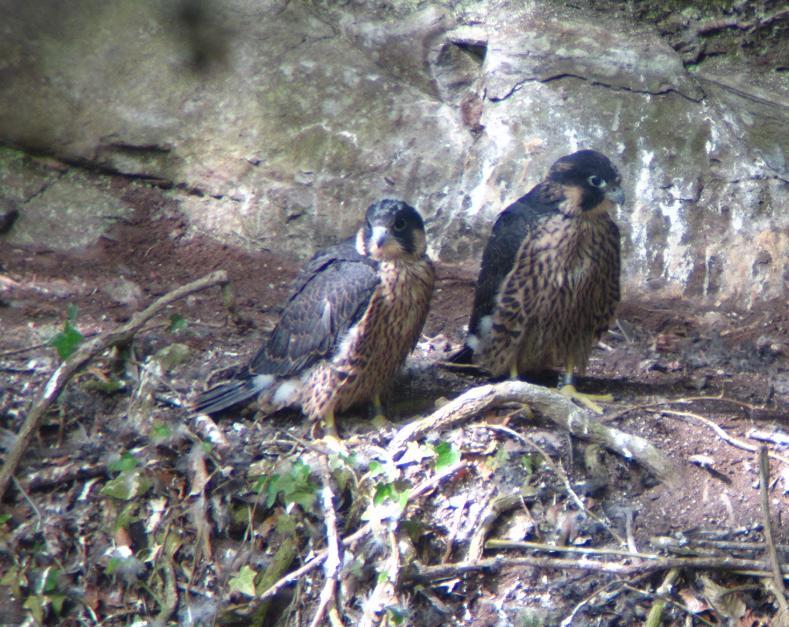 Help protect Scotland's wildlife
Our work to save Scotland's wildlife is made possible thanks to the generosity of our members and supporters.
Join today from just £3 a month to help protect the species you love.
---
Preface
The two eyasses have most of their adult plumage through now. They are becoming increasingly active on the ledge and strengthening their wings with frequent wing flaps. One of the eyasses …