The eyasses are now feeding themselves most of the time.
Over the last few days we have had some amazing views of the fledgling tiercel and it has been a real privilege to see them so close up. They have been sitting in the oak tree on this nearside of the gorge literally ten metres away. They are looking much more comfortable flying and seem more agile in the trees. Their talons are starting to get a yellow tinge to them. Their juvenile plumage is very speckled and impressive on their breast feathers.
The eyasses are now feeding themselves. The falcon and tiercel are bringing in prey items and the eyasses are taking the prey off the parents or taking them from the larders, where they store the prey. The predominant prey item is still juvenile starling at the moment.
Yesterday we got some incredible views of one of the eyasses feeding on a starling about 8 metres away in the close oak tree and then the other eyasse tried to pinch the prey off him. We had the telescope trained on them and it felt like you could literally touch them. Amazing!
In the next few weeks the parents will take the fledglings out of the gorge and teach them how to hunt. We are open at the peregrine watch till the end of June as the birds are still hanging around. So come along and get some great views of fledgling peregrines close up. I hope you enjoy the next few photos.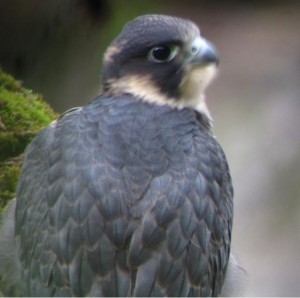 Help protect Scotland's wildlife
Our work to save Scotland's wildlife is made possible thanks to the generosity of our members and supporters.
Join today from just £3 a month to help protect the species you love.
---
Preface
Over the last few days we have had some amazing views of the fledgling tiercel and it has been a real privilege to see them so close up. They have …