Speices profile – Eider (Somateria mollissima)
Visit Montrose Basin at any time of year and there is one bird you're guaranteed of seeing, the wonderfully charming eider duck.  
Although Britain's second most common duck and a familiar sight around the rugged coastlines of Scotland, Isle of Man and Northern Ireland; eiders are a peculiar bird to many visitors from southern England who have never seen these bulky birds with their large, wedge shaped bill.
Reaching speeds of up to 70mph, the eider is one of the UK's fastest flying birds and weighing in at a hefty 2kg, it is also the heaviest duck found here. 
The eiders diet consists almost entirely of mussels, which they pick from the seabed or rocks, swallow whole and crush in their gizzard.  Large numbers of eider are to be found at Montrose as they take advantage of the extensive mussel beds across the eastern end of the Basin and the reserve is designated as a Site of Special Scientific Interest (SSSI) for both its wintering and breeding population of eiders.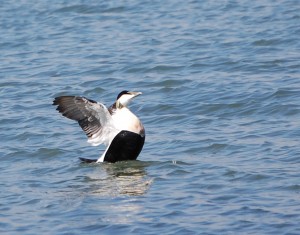 A long-lived species, a typical eider life-span is around 20 years and it takes up to three years before they are mature enough to breed. 
At this time of year many adult female eiders are sitting on nests incubating their precious clutch of 4-6 large greenish-grey eggs, although this figure can be as high as 8 or 9.  Nests are usually about the size of a side plate and lined with fluffy feathers, known as down, plucked from the female's breast and it is this down which is famously used to stuff pillows and quilts; in fact, the French name for this brilliant bird is eider à duvet.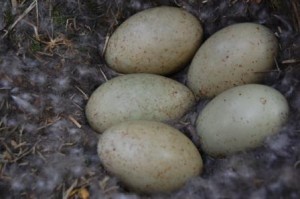 Down is an extremely good insulator and studies have shown that sleeping bags packed with eider down provide warmth down to temperatures as low as -35˚C, whereas a sleeping bag packed with the same amount of the warmest man-made materials only provide sufficient insulation to a balmy -7˚C.
Female eiders are extremely dedicated mothers and will sit tight on her eggs throughout the incubation period which can be up to 4 weeks.  During this time she will lose much of her energy stores and it is not unknown for females to starve to death whilst on the nest. 
Not easily spooked, eiders will remain on her eggs, hoping her brown and black speckled plumage will camouflage her enough to remain unnoticed.  In cases where she is put off the nest by a potential predator or unsuspecting human intruder, she will excrete a disgustingly smelly bile onto her eggs.  It is thought that this is to trick mammals such as foxes into thinking the eggs are rotten and they will not predate the nest.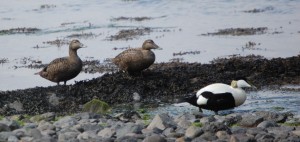 Once the ducklings hatch, the female leads them to the waters of the Basin where they are looked after by non-breeding females or failed breeders, known as "aunties", in large crèches of up to several hundred ducklings.  She heads off to feed to replenish her vital energy reserves which may have gotten dangerously low. 
Late June and July is the best time to visit the reserve to see the wonderful spectacle of hundreds of tiny black eider ducklings floating around on the Basin.
At Montrose we have around 300-400 pairs of eider breeding on the reserve and every other year we monitor their breeding success.  A blog telling you all about this year's survey is due to be posted around mid-June so make sure you keep an eye on our blog for that.
Adam – Montrose Basin Ranger
Help protect Scotland's wildlife
Our work to save Scotland's wildlife is made possible thanks to the generosity of our members and supporters.
Join today from just £3 a month to help protect the species you love.
---
Preface
Visit Montrose Basin at any time of year and there is one bird you're guaranteed of seeing, the wonderfully charming eider duck.   Although Britain's second most common duck and a familiar …