Yesterday afternoon we carried out the Wetland Bird Survey (WeBS) for May, the monthly stock-take of all the waterbirds on the Reserve.  Unlike last month when the sun was splitting the rocks, the weather for this WeBS count was overcast with a slight breeze and a very light rain shower but it was still quite warm.
Once everyone had been assigned an area of the reserve to count, we all set off before the incoming tide rose too high and pushed the birds tide to the shore and out of sight.
It's a great time of year to survey or go birdwatching on wetland sites such as Montrose Basin as you never know what species may turn up as waders pass through the British Isles on their way to their breeding grounds in the Arctic, so we were hopeful that we might see something good. 
We weren't disappointed with grey plover, whimbrel, bar-tailed godwit, black-tailed godwit, turnstone, dunlin and ringed plover all being recorded as they make their way north.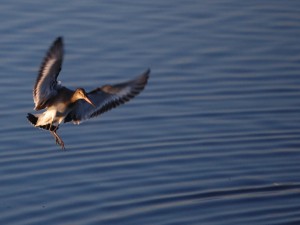 On the other hand, numbers of resident wader species at this time of year drops dramatically as species such as oystercatchers, redshank, lapwing and curlew move inland to the Angus Glens to breed, explaining the low numbers of these species recorded compared to the autumn and winter months.
One of the most obvious changes on the Basin at this time of year is the shift of eiders from the eastern end of the reserve near the town to the isolated western end, where hopefully several hundred females will make their feather-lined nests and lay their precious eggs.  A respectable count of over 1500 eiders was recorded this month and we are currently monitoring their nesting productivity, the findings of which we will report to you here on our blog sometime during June or July.
By mid-May we would expect the pink-footed geese to have left the reserve, but there were still over six hundred recorded during yesterday's survey, which is only a fraction of the 65,000 geese which were on the reserve back in early October.
Most of our other main migrant wildfowl species have moved on however and only four wigeon, five teal and two whooper swan were recorded.
Other wildfowl recorded included twenty-one goosander, thirty-five red-breasted mergansers, a pair of gadwall and a single shoveler which, like the pochard last month, is not an unusual sighting for the reserve but it certainly isn't common.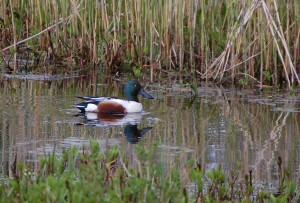 The WeBS count has been ongoing at Montrose for years and the results give a fantastic snapshot of what species and numbers of birds can be found on the Basin at various times of year.  The information our volunteers gather is added to a nation-wide database which is invaluable in conserving and protecting these wonderful wetland habitats.
Unfortunately it does only give a snapshot and we can only record the birds and species on the Reserve we see when we carry out the survey.  In order to make sure everything we see is recorded, as well as submitting our WeBS counts, we also add any casual sightings to Birdtrack, a fantastic joint BTO/SOC/RSPB online recording system.  This means that any non-WeBS sightings from the Reserve, such as the three hundred knot and four hundred dunlin which were seen last week are also reported.
As you can see from the summary table below, we recorded a total of 3125 birds from 30 species, as well as a fishing osprey, not bad for a couple of hours work!  Remember to click on the table for a larger view.

Adam – Montrose Basin Ranger
Help protect Scotland's wildlife
Our work to save Scotland's wildlife is made possible thanks to the generosity of our members and supporters.
Join today from just £3 a month to help protect the species you love.
---
Preface
Yesterday afternoon we carried out the Wetland Bird Survey (WeBS) for May, the monthly stock-take of all the waterbirds on the Reserve.  Unlike last month when the sun was splitting …