Sightings summary – April 2011
April is always an exciting time in the birdwatching calendar at Montrose Basin, with the last of the winter migrants heading off, summer migrants arriving back and if we're lucky, some passage migrants on their way to their breeding grounds in the Arctic may pay us a visit.
Having already recorded sand martins and chiffchaffs during the last week of March, the first new migrant to arrive this month was the swallow when one was seen flying low over the mud in front of the Visitor Centre on 4th.
Next to arrive was a willow warbler, heard singing in the car park on 11th. 
Staff and volunteers had been looking out for the first osprey and on the 14th one was seen sitting on a tree stump which is known to be favoured by visiting ospreys.
In terms of passage migrants, a grey plover was seen in front of the Visitor Centre on 7th, three greenshank were recorded in the Mill Burn on 14th and a male wheatear dropped in for a rest on our tern raft on 24th (see photograph in post dated 25th April).
A singing male blackcap at Old Montrose Pier on 17th indicated another migrant had made it safely back and this was closely followed by a sighting of a common sandpiper near Bridge of Dun and two sandwich terns resting on a marker buoy in the middle of the Basin.
A grasshopper warbler was heard on 20th on Drum of Dun and the first sedge warbler was heard singing near the Bank of Scotland Hide the next day.  A walk on Mains of Dun on 24th was rewarded by the first whitethroats and two whooper swans dropping onto the River South Esk to roost on their migration to Iceland.
The most excitement caused by a migrant was reserved, however, for the common terns which nest on our raft in the middle of the Basin.  The first common terns were seen on 28th and several pairs were seen displaying to each other on 30th.  You can watch live footage of our tern raft by visiting the Scottish Wildlife Trust website, or by clicking the link at the bottom of the page.
Wildfowl
The best indication of wildfowl and wader numbers in April can be gained from our WeBS count, the results of which can be found by clicking the link at the bottom of the page.  The most exciting sighting from the WeBS was a pochard, which was seen on River South Esk.
Other wildfowl sightings this month included 65 pintail on 3rd, 21 goldeneye and 14 tufted duck on 10th, three female goosanders and seven greylag geese on the River South Esk on 14th, a pair of gadwall at the Shelduck Hide throughout the month, two pairs of goosander, two whooper swans and 2000 pink-footed geese on 24th.
Wader sightings, other than the WeBS count, included a single greenshank recorded on 3rd, and a grey plover seen on 7th. Fourteen bar-tailed godwits were seen on 10th, and a flock of 30 black-tailed godwits was flying near the Lurgies on 20th.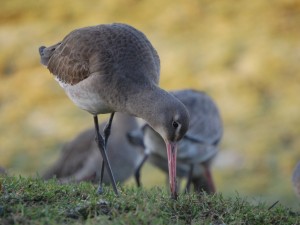 Birds of prey
A white-tailed sea eagle was seen flying over the Lurgies on 6th, unfortunately we were busy installing the cable for the new tern raft camera and were unable to confirm the sighting, however, we are satisfied as it came from a reliable source and there have been other sightings in the area.
Buzzards are a much more common sight, and are seen almost daily.  Three were recorded on Mains of Dun on 14th, the same day as our first sighting of an osprey, since when they too have become an almost daily sighting.  The best views of an osprey so far were offered on 30th when a male sat on a fencepost out the front of the Visitor Centre with a large fish he had just caught.
Sparrowhawks too are not an uncommon sighting and single birds were recorded on 16th, 23rd and 30th.
A single barn owl was seen at Bridge of Dun on 24th and this was followed up by a sighting of a pair on 26th near Mains of Dun.
Passerines
A siskin visited the feeders on 1st and throughout the month the usual array of goldfinches, chaffinches, greenfinches, tree and house sparrows, great-spotted woodpeckers, tits, dunnocks, blackbirds, woodpigeon and pheasants have all been seen around the feeders.
At Lurgies 26 linnets were recorded on 2nd, as were two pied wagtails (3rd) and a grey wagtail (6th).
Nine meadow pipits were seen on Mains of Dun on 14th, along with a singing song thrush and three singing wrens.
A total of seven grasshopper warblers were heard singing on Mains of Dun on 26th.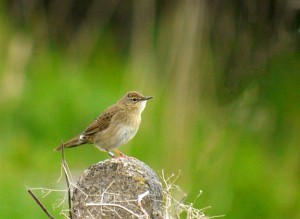 Our sand martin wall has been a hive of activity throughout the month and a survey on 30th indicated around 70 holes are currently seeing some sort of activity from excavation to nest building.  The peak number of sand martins recorded on the reserve this month, however, was on 24th when a flock of 500 were seen coming into roost in the reedbeds at the western end of the Basin.
Others
A coot was heard in Lurgies on 2nd and 200 jackdaws were seen flying over onto the fields in Mains of Dun.
Cormorants are a common sighting on the reserve and the peak count this month was 21, recorded on 3rd.
A visitor to the Shelduck Hide on 14th recorded two grey partridge at Mains of Dun and two lesser black-backed gulls on the River South Esk.
Mammals
Common seals are a frequent sighting most days on the Basin as they haul their huge bodies out onto the sand banks at low tide to bask.  We usually expect to see between 10 and 20 on the reserve, with the most counted at any one time this month being 16 (3rd).
Grey seals, on the other hand are a less common sighting and the only record during April was on the 10th when two were recorded seen.
As the vegetation grows higher and trees come into leaf, sightings of roe deer are becoming less frequent, but visitors on 16th were treated to the sight of two females feeding in the Salt Pans right beside the Visitor Centre.
One of my favourite mammals, we have a small population on brown hares at Montrose Basin and a survey at the end of March indicated there are around 40-50 hares on the reserve.  Sightings were recorded throughout the month however, the most seen at once was four at Mains of Dun on 24th. 
Keep an eye on our blog for an upcoming post in the next week or so all about these brilliant animals, including some cracking photographs.
Other mammal sightings this month included a bat, also at Mains of Dun on 24th.  Unfortunately I could not tell what species it was.
Butterflies
The hot, dry weather which persisted throughout April saw an eruption of butterflies on the reserve and six different species were recorded.  Two peacocks were seen at the Visitor Centre on 10th, a single red admiral and two small tortoiseshells near the Shelduck Hide on 14th.  On Sunday 24th, two large whites, 3 orange tips and eight small whites were all seen on plants at the bottom of the Visitor Centre car park.
To read about our April WeBS count, click here.
To view the tern raft webcam live, click here.
Adam – Montrose Basin Ranger
Help protect Scotland's wildlife
Our work to save Scotland's wildlife is made possible thanks to the generosity of our members and supporters.
Join today from just £3 a month to help protect the species you love.
---
Preface
April is always an exciting time in the birdwatching calendar at Montrose Basin, with the last of the winter migrants heading off, summer migrants arriving back and if we're lucky, …