Niall Currie has been working with the Scottish Wildlife Trust at Montrose Basin on a six-month contract since the start of December 2010. 
Here he tells us about a project he has been involved with outside of work:
Common lizards are one of just three hardy reptile species native to Scotland.  I find it amazing to think that these cold blooded creatures manage to survive this far north, especially after the harsh winter that we have just left behind.  With the onset of spring, the lizards are beginning to bask, feed and prepare for courtship.
Through my recent involvement with Friends of Angus Herpetofauna Group I was pleasantly surprised to discover that common lizards can be found in Angus and even very locally to Montrose, albeit in small and fragmented populations.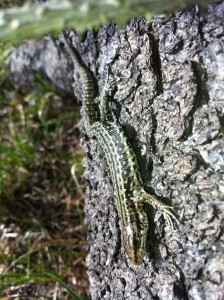 Reptiles are very sensitive to human disturbance and even if present, they are notoriously hard to spot because of their camouflage and avoidance of humans, making every reptile encounter a very rewarding one. 
The construction of a cycle path linking Montrose to Northwater viaduct passes through an area of prime common lizard habitat.  So to help save some of the lizards along this stretch, over 40 volunteers co-ordinated by Friends of Angus Herptofauna have been helping to catch and relocate them to safer areas. 
So how do you find, never mind catch a lizard? 
Well mats, or 'refugia' as we like to call them, have been placed down since the start of April in the hope that lizards will use them to hide under and bask on.  The other method of detecting lizards is simply looking for them at the edges of gorse, long grass and tree habitat.  
Catching them is another matter as they are prone to scurry off into dense vegetation, but will occasionally stay still when approached slowly and steadily.  They can then be gently scooped up and placed in a bucket. 
On Saturday 5th April, with the expert help of Trevor Rose, I saw my first Scottish lizards.  Several of them darted away as we approached, but one male was so comfortable with our presence and allowed us to take many close photos.  He was even happy to close his eyes while basking, showing he was quite unperturbed by his onlookers.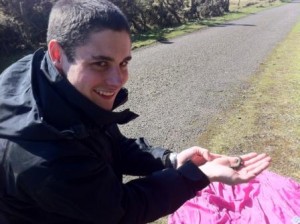 Seven lizards were removed before digging began and another was captured as digging commenced.  Lizards are vulnerable because they will hold a territory of just a few metres, meaning that any living in the path of the development would likely bury down rather than move to a safer patch.  This, however, makes relocation effective, since they are likely to settle near to where they are released and unlikely in the short term to return to where they were captured.
 The gorse cutting and digging for path construction has now been completed, so the dangers to lizards have now passed and once the path is completed it should provide a good surface for basking. 
Hopefully with a little help and careful planning these elusive creatures will continue to populate the lowlands of Angus for others to discover.
Niall – Reserve and Visitor Centre assistant
Help protect Scotland's wildlife
Our work to save Scotland's wildlife is made possible thanks to the generosity of our members and supporters.
Join today from just £3 a month to help protect the species you love.
---
Preface
Niall Currie has been working with the Scottish Wildlife Trust at Montrose Basin on a six-month contract since the start of December 2010.  Here he tells us about a project he …