Birds "re-tern" to Montrose
Fantastic news, the colony of common terns has returned to our raft!
After a journey of tens of thousands of miles, the first common terns were seen back on the reserve at Montrose last Thursday (28th April) when 18 birds were recorded investigating the raft and over the weekend several pairs were seen displaying to each other. 
Slightly smaller than a black-headed gull, common terns are slender, elegant birds with a forked tail and bright red bill, which in summer has a black tip, unlike the very similar Arctic tern which lacks this.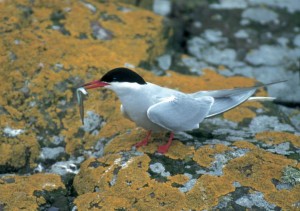 Common terns are sometimes refered to as "sea swallows" and this is illustrated in their scientific name, Sterna hirundo which comes from the Latin word hirundo, meaning swallow, and Sterna is the Old English word for tern.  This name also led our volunteers to christen our tern raft, "The Made of Sterna Stuff" when it was launched back in 2008.
Located a few hundred meters offshore in the middle of the Basin, the raft is set in a small channel which means that it is always surrounded by water, even at low tide. 
The surface is covered in a substrate of crushed scallop shells, in which the terns will create a small shallow scrape where they will lay their eggs sometime around mid-May.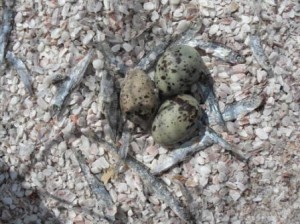 Normally the female will lay between 1 and 3 buff-coloured eggs with dark blotches and spots, although a clutch of 4 eggs is not unknown.  Incubation will then take about 3 weeks.  After hatching, the chicks will spend around 3 to 4 weeks on the raft before they finally fledge and begin one of the most perilous and fascinating migrations in the avian world.
This year, thanks to help from Montrose RNLI and Montrose Sailing Club, we have installed a brilliant new HD camera on the raft which will allow us to watch and study some of the most intimate moments of the terns' lives.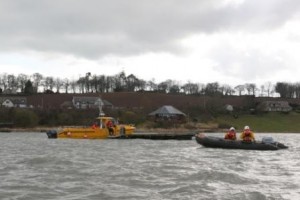 Streaming live on the Scottish Wildlife Trust website, anyone following this story as it unfolds will be enthralled in the mayhem that is a tern colony.
There is sure to be romance, joy and excitement, but a word of caution, there will also be anxiety, squabbling, hostilities, death and even murder – you have been warned!
To view live footage of the tern raft, click here.
Adam – Montrose Basin Ranger
Help protect Scotland's wildlife
Our work to save Scotland's wildlife is made possible thanks to the generosity of our members and supporters.
Join today from just £3 a month to help protect the species you love.
---
Preface
Fantastic news, the colony of common terns has returned to our raft! After a journey of tens of thousands of miles, the first common terns were seen back on the …