Well, aren't I glad I didn't back any horses in last week's Grand National?! 
Literally only a few hours after I uploaded my last post saying we hadn't seen any ospreys so far this year, and that my money on the next migrant to be seen on the reserve would be put on a sandwich tern, what goes and turns up?  You guessed it, an osprey.
On Thursday afternoon, just as we were getting packed up to head home I did a quick scan of the Basin, taking time to check a particular tree stump that we know is a favourite for visiting ospreys, and there tucking into a fish was the unmistakable figure of an osprey.
I drove round to the car park by Old Montrose Pier to walk along the Lurgies Path which would hopefully give me better views as the evening light would be behind me.  Unfortunately the bird which had sat on the stump for over half an hour enjoying its quarry had flown off and was nowhere to be seen.
Just when I thought I had missed seeing the bird again I noticed something splashing about in shallow water near the Shelduck Hide.  I trained my telescope on the area and was pleased to see that it was an osprey having a bath in the fresh water of the River South Esk, before flying off inland.  I even managed to get some digiscoped video footage of the bird, but it's terrible, so it won't be put up here!
I continued on the path which follows the route of the river and I spotted three female goosanders and a small gaggle of seven greylag geese on the river, along with plenty of mute swans, red-breasted mergansers, goldeneye and redshank.  In the Mill Burn there were some teal dabbling along the edge of the water and three greenshank were feeding on the exposed mud banks, a nice support act for this magnificent bird of prey.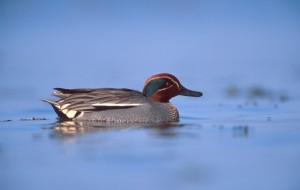 Although I wasn't lucky enough to see the osprey again on my walk, I was pleased to see that another summer migrant had made it back to Montrose.  As for what will be the next to be recorded on the Basin…I'm not one to speculate.
Adam – Montrose Basin Ranger
Help protect Scotland's wildlife
Our work to save Scotland's wildlife is made possible thanks to the generosity of our members and supporters.
Join today from just £3 a month to help protect the species you love.
---
Preface
Well, aren't I glad I didn't back any horses in last week's Grand National?!  Literally only a few hours after I uploaded my last post saying we hadn't seen any …